Our services are designed to help you cope in the aftermath of crime, and to recover from any longer term effects.
We understand it's often a big step to reach out for support, but if you contact us, not only will it be confidential, we'll also make sure you get the right information and support to help you move forward and overcome the effects of the crime.
This support might include:
talking through what you can expect after reporting a crime
looking at ways to make you feel safer and less isolated
helping you to fill out a compensation or insurance forms
getting advice on how to make your home more secure
with your permission, referring you to other specialist organisations that can also help.
The support you receive will be tailored specifically to your needs and we'll work with you to design a support plan that's right for you. Depending on your needs, you might just want to know where you can find information about the criminal justice process and some self-help guides, or you might need to meet with one of our Victim Care Advocates to build a plan that helps us address how the crime may have affected your work, your children's behaviour at school or a range of other issues we can help you work through.
We don't provide specialist support for people affected by domestic or sexual violence, but we will help you access support from our partner agencies.
We can also help you liaise with other agencies, find out information for you, and we may be able to attend meetings with you.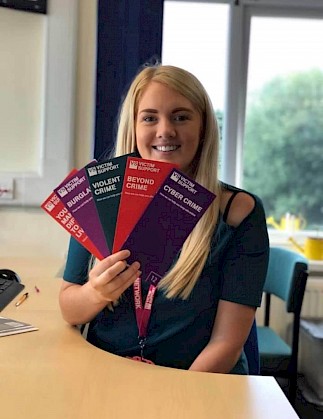 Related Links: