What is cybercrime?
Cybercrime is crime that is committed using the internet through a smartphone, laptop, computer, internet-enabled television, smart speaker or other online device. Cybercrimes can include stealing information stored online, fraud, harassment, bullying and grooming. Cybercrime is on the increase and as more and more products are now internet-enabled, it's really important to make sure you are safe.
Online fraud - staying safe
Fraud is one of the most common crimes that can be committed online. Often, fraudsters can be thousands of miles away so it can be difficult for the police to track them down. Fraud can include selling goods that don't exist, tricking people into sending money, inviting people to invest in fake pensions and other investments and dating scams. Identity theft is another type of fraud where the fraudster uses someone else's personal details to buy goods or apply for credit or loans. There are a number of ways you can protect yourself against online fraud:
Install anti-virus software on your devices and keep it up to date
Don't use public Wi-Fi when making purchases
Pay using a credit card or online services like PayPal for better protection
Never click on links in unexpected emails or texts. Verify that any requests for information or payment are genuine by contacting the organisation outside of that email or text
Research retailers online to make sure they're legitimate. Look at customer reviews on sites like Trustpilot
Avoid web addresses that look strange or don't align with the site you're expecting
Use passwords that are difficult to guess and ensure they are different for EVERY account you have. Never give your password to anyone and change them regularly (see 'Password Safety Information' under 'Downloads')
Ensure your privacy settings are up to date on social media – fraudsters may try and use publicly available information to gain trust and scam you
Stay 'on-platform'. If you are using a dating site, reject any request to move to another platform such as texting. Dating sites usually have their own security, which helps to keep you safe. Confirm the person's visual identify by asking them to hold up today's newspaper showing their face and the date. Be wary of early declarations of love
Look for the padlock on web addresses (as below). This indicates the site is secure and you can view the site certificate using this padlock. If you get a warning, avoid the website. In addition, a web address starting with http is not secured, whereas https is secure
If you have been a victim of fraud you can report it to the police or Action Fraud. If you need help, we can support you even if you haven't reported it.
Keeping children and young people safe online
Most internet providers have child safety features in the internet browser to help protect children from unsafe websites. If your children are on social media, keep an eye on who they are talking to and make sure their accounts have the highest privacy settings. With younger children, make sure you know their password. Talk to your children about internet safety or get advice from their school, as some run cyber-safety classes.
Your children can also get safety tips from our You & Co site, which is Victim Support's youth programme. The tips below are taken from that site and you can find the link at the bottom of this page for further information.
Don't post any of your personal information online – this includes your address, phone number, email address and school
Keep the privacy settings on all your social media accounts as high as possible. This will stop people you don't know being able to look at your profile. All social media sites have guides that tell you how to set your privacy
Never give your passwords to anyone, especially to people you don't know
As a rule, what starts online should stay online, so don't meet up with people you've met on the internet as they may not be who they have said they are. Speak to your parent/carer if anyone asks you to meet up
Think about what you say before you post something online. If you wouldn't want your parents, friends, school or family to see it then don't post it
Don't post anything that might be hurtful or offensive about someone, even if you are angry at the time. Once it's posted you can't take it back
Be careful about posting videos or pictures online. Once they're posted people may be able to download them and then they are out of your control
If you see something online (on a website, in a chat room etc.) that makes you feel uncomfortable or scared, tell an adult that you trust about it
Turn off or cover your webcam when you're not using it
O2 and the NSPCC are working together to provide information and advice to help people learn how they can keep their children safe. They have a number of great online resources and a helpline. You don't have to be an O2 customer to use this service and you can find the link to the website below.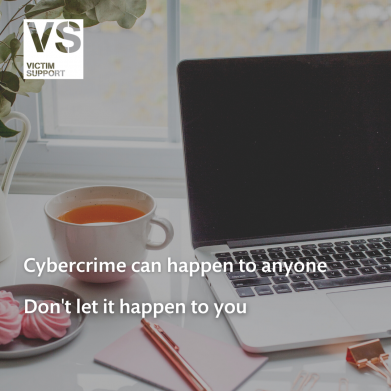 If you or your child has been a victim of a cybercrime, we can help you. Contact us on 0300 303 1976.
Reporting possible spam emails and texts
The National Cyber Security Centre (NCSC) wants people to send on suspicious emails and texts to help them identify new scams. You can easily report suspected spam emails and texts by forwarding them on to the Suspicious Email Reporting Service (SERS). Simply;
Forward suspicious emails to report@phishing.gov.uk
Forward suspicious texts to 7726 (this spells SPAM on an phone's keyboard)
Useful contacts and information
Get Safe Online. Lots of information on staying safe online, including social media, shopping, protecting yourself and information for keeping children safe.
UK Safer Internet Centre. Online safety tips, information and resources.
Action Fraud. Reporting online fraud.
NSPCC. Internet safety advice for keeping children safe online.