Stalking is a pattern of unwanted and repeated behaviour that makes you feel distressed or scared. It's a really serious crime and causes victims significant distress and it's important that victims of stalking are able to access support when they need it. The fear that stalking can cause is very real and some stalkers go to great lengths to harass and monitor their victims. We can support anyone who has been a victim of stalking.
South Yorkshire Stalking Service (none domestic abuse related)
Victim Support South Yorkshire has a specialist Stalking Victim Care Advocate who can support anyone who has been a victim of stalking by a stranger or acquaintance. Stalking is a serious crime and you do not have to suffer in silence.
If this is happening to you or someone you know, we can support you. We are non-judgemental and can give you impartial information and support about your situation.
The services are free, confidential and available to everyone, whether or not the crime has been reported and regardless of when it happened. We can help you through the criminal justice system and help you understand your rights under the Victims' Code.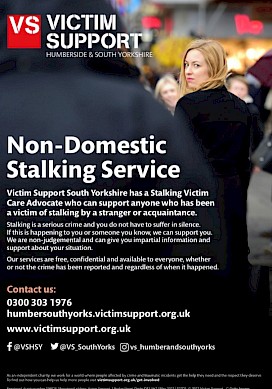 Humberside Stalking Service (none domestic abuse related)
Are you being followed, watched or tracked? Are you getting any unwanted attention, unwanted gifts, or unwanted phone calls?
Is this person a friend, a colleague, or an acquaintance?
We can help you by providing support, helping you to talk to services, giving you information and advice.
You can contact us by phone, online, on live-chat or by email:
0300 303 1976
www.victimsupport.org.uk/live-chat
humbersouthyorks.vs@victimsupport.org.uk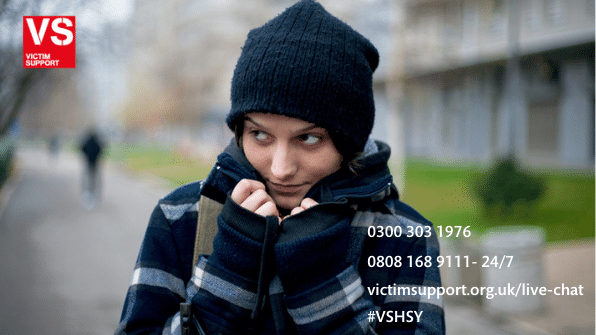 Technology and cyber-enabled stalking
Technology has made stalking very easy. Stalkerware can be downloaded on to the victim's devices and this allows the stalker to monitor them. Hidden cameras can be in anything – things like photo frames that have then been given as gifts from the stalker to the victim. Even water bottles that contain hidden cameras are available and these can be left anywhere and look inconspicuous. Technology has also allowed stalkers to use listening devices, monitor people's locations through GPS trackers, hack smart devices such as smart door bells, smart speakers and webcams.
How devices can be hacked
There are several ways devices can be hacked:
If you've logged into an account on a device they own and forgotten to log out
If you've logged into an account on a device they own and you've since changed your password but you haven't told the application to log out all devices currently logged in
If you've told them your password / your password is easy to guess / your password is the same for lots of other things and they've found it out / your password is written down somewhere
If they've put some spy software on your device which records everything you type and this is used to capture passwords.
In very rare cases professional hackers, security people (MI5, MI6, GCHQ, or advanced coders) can hack into your devices or the servers hosting these applications
What to do if you think you have been hacked
Contact the police
Make sure the apps you use and your device's operating systems is up to date by always updating software when prompted
Protect your device with a passcode that only you know nsure your device auto locks and always lock it if you leave it
Ensure you have to input your password in order to download apps. Always require a passcode to download apps
If someone has been able to access your device:
Remember:
Cyber stalking is just as serious as physical stalking. If you need support, contact us today.